Cindy Willbrand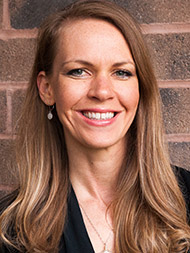 Cindy Willbrand graduated from Bastyr University School of Naturopathic Medicine in Seattle, Washington with a doctorate in Naturopathic Medicine in 2004.
A native Missourian, Cindy grew up in a small farming community outside of St. Louis. She received her Bachelor of Science in Biology with a minor in Art History from Truman State University in Kirksville, MO, in 2000. After graduation, she followed a lifelong interest in holistic medicine by moving to Seattle to begin her Naturopathic studies at Bastyr University, one of the world's leading institutions in Naturopathic medicine and one of the only five accredited Naturopathic medical schools in North America. Her clinical training focused on family medicine including specialty rotations in women's health, geriatrics, pediatrics, ADHD, and AIDS. After graduation, she served a residency at Dancing Horizon Health Center in Boonville, MO. Cindy is a member of the American Association of Naturopathic Physicians.
Cindy has been with Webster Family Physicians since 2005. Special areas of interest include women's health, pediatrics, chronic disease, ADHD, allergies, cardiovascular, and gastrointestinal health. She utilizes dietary changes, nutritional supplementation, counseling, craniosacral, botanical medicine, and homeopathy to help support the spiritual, emotional, mental, and physical well-being of patients. In doing so, she is dedicated to working creatively with each individual to find a greater state of health and
happiness. Cindy is trained in the FirstLineTherapy™ therapeutic lifestyle program designed to help people achieve optimum weight and body composition.
As defined by the American Association of Naturopathic Physicians, naturopathic medicine "is a distinct method of primary health care, an art, science, philosophy and practice of diagnosis, treatment and prevention of illness…emphasizing nature's inherent self-healing process…through education and the rational use of natural therapeutics."
Having completed a four-year graduate-level naturopathic medical school, Cindy has been educated in the same basic sciences as physicians and has also studied holistic and non-toxic approaches to therapy with an emphasis on disease prevention and wellness. She has completed four years of training in clinical nutrition, homeopathic medicine, botanical medicine, psychology and lifestyle counseling for personal health. She has completed the Naturopathic Physician Licensing Examination (NPLEX) which is required to gain licensure in any of the states which currently license naturopaths. This exam covers anatomy, physiology, psychology, pathology, biochemistry, microbiology and immunology as well as clinical and physical diagnosis, laboratory diagnosis, diagnostic imaging, pharmacology, nutrition, physical medicine, homeopathy, psychology and lifestyle counseling. She is licensed as a Naturopathic Physician in the state of Kansas. At the present time, Missouri is not one of the states that recognize or license naturopaths or naturopathic physicians. Under Missouri law, she therefore functions as an assistant to Dr. Wessling, and any services she provides are under his direction and supervision.
Cindy enjoys cooking, reading, and spending time with her husband, three daughters and friends.