Christian Wessling, M.D.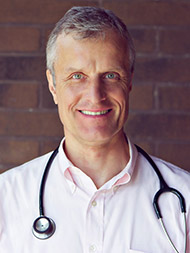 A native of Germany, Dr. Wessling graduated from the United World College of the Atlantic in Glamorgan, South Wales in 1974 and the University of Düsseldorf Medical School in Düsseldorf, Germany in 1981.
He completed a three-year residency in family medicine at Lutheran Medical Center in St. Louis, Missouri and a one-year fellowship in holistic medicine at the Ita-Wegman Klinik at Arlesheim, Switzerland.
He is a member of the American Academy of Family Physicians, the American Institute of Homeopathy, the American College for the Advancement of Medicine, the American Academy of Anti-Aging Medicine, the St. Louis Institute of Integrative Medicine, and the Physicians' Association of Anthroposophical Medicine, having served as its Secretary and President. He is board-certified in Family Medicine, Homeotherapeutics and Anthroposophical Medicine, and is a past chairman of the Department of Family Practice at St. Joseph Hospital in Kirkwood, Missouri. He recently renewed his board certification in Family Medicine for another 7 year period by passing the recertification examination. He has lectured locally and nationally on a variety of health-related topics. He is also the Medical Director of Oakwood Lifesharing Services, Inc., a community serving the needs of handicapped youth and adults.
He has three young adult children and has lived in Webster Groves since 1983. His hobbies include piano performance, travel and organic beekeeping.